FOR PROFESSIONALS
A new generation of cosmetics for your clients
The corneotherapy cosmetic brand Response is loved by cosmetologists around the world, thanks to its unique method, which quickly repairs damaged, sensitive skin and solves the dermatological problems associated with a modern lifestyle.
Response is especially recommended for use before aggressive cosmetic procedures such as chemical peels, laser procedures, plastic surgeries and also during rehabilitation.
Our clients note that when using Response before peels and laser resurfacing, the procedure's effect is more noticeable, and the skin recovers much quicker.
Response home care facilitates quicker skin recovery after aggressive cosmetic procedures in the salon, making the results of your work as a cosmetologist more noticeable and longer-lasting.
Response embodies the ideal basic home care, combining the most important things for a busy city-dweller – simplicity, multifunctionality, effectiveness.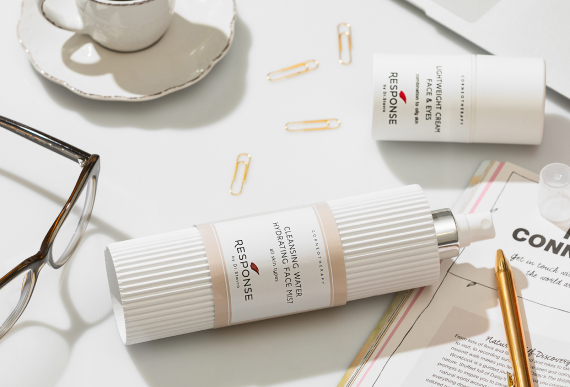 Response cosmetics do not use aggressive emulsions. The membrane lipids play the role of the binding component, which doesn't damage the skin and restores its protective barrier. The unique and patented CorneoT ™ technology uses a mixture of key skin lipids (ceramides, cholesterol and essential fatty acids) in the correct ratios. Valuable inca oil, shea butter, macadamia oil, borage oil, hyaluronic acid and beta-glucan enhance the regenerative qualities of the product. The composition is eco-friendly and free of parabens, silicones and synthetic oils.
Response by Dr. Stavro is one of three corneotherapy brands in the world and the only one with fragrance.