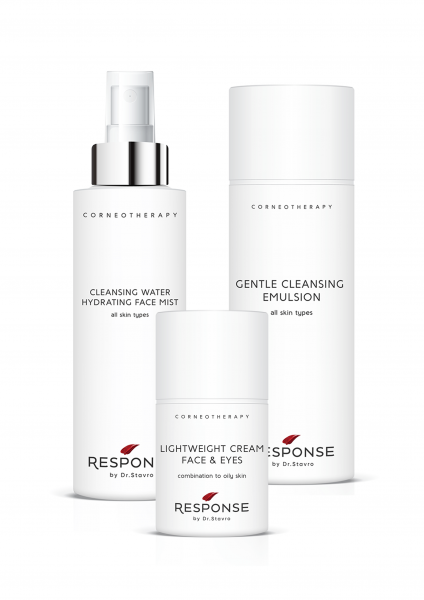 About the product
This Response set of products allows you to follow a perfect skincare routine. Response Trio consists of Gentle Emulsion, Cleansing Water Hydrating Face Mist and Lightweight cream.

By purchasing this trio you get the best price and the best results for your skin!

Three simple steps to healthy, glowing skin.
1. Cleanse
2. Moisturize
3. Nourish and Protect.
C L E A N S I N G - GENTLE CLEANSING EMULSION
Activate your skin with unique, revitalising cleansing emulsion. The exclusive, membrane lipid-based technology gently and softly removes sebum and makeup and prepares your skin for the next step.
M O I S T U R I S I N G - CLEANSING WATER HYDRATING FACE MIST
The lightly acidic pH of "living water" from the active hydrolyte of fresh apples deeply cleanses your skin, and provides excellent moisture saturation. Experience freshness and comfort throughout the day with this multifunctional moisturiser.
P R O T E C T I O N A N D R E S T O R A T I O N - FACE CREAM
Your skin requires protection and support, just as you do. The unique combination of ingredients in this product resembles your skin's composition, enhances its protective function and restores its lipid barrier.